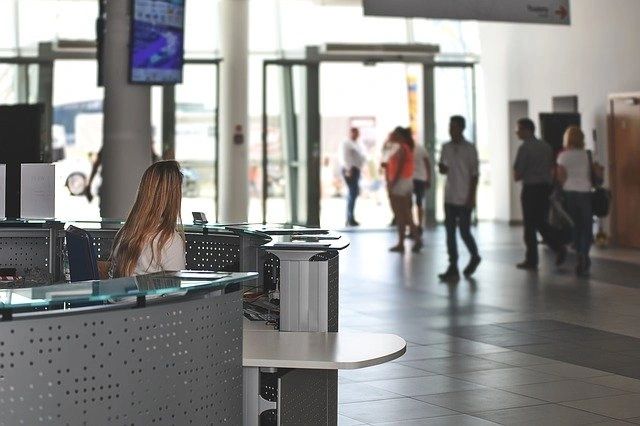 Hearing Loops for Businesses
October 10, 2020
|
|
business access, cochlear implant, communication, communication access, Counter hearing loops, COVID-19, hearing aids, hearing loop, hearing loss, lipreading, telecoil
Shortcomings in equitable access
Although totally necessary, COVID-19 safety precautions have led to serious communication issues for those with hearing challenges ─ over 20 percent of the population.
While all customers and clients need equitable access to communication at any time, the Coronavirus has uncovered the fact that many businesses have few if any ways of accommodating hearing loss for everyday business transactions.
No more lipreading
Speechreading (lipreading), an important communication method for those with hearing loss has become pretty much impossible these days.
Keeping at a distance weakens sound signals, which are further muffled by facemasks and plastic or glass barriers. Facial expressions are no longer visible. Added background noise makes things even worse. And then, there is no helpful accommodation!
Even as the COVID pandemic rages on and safety precautions are all important, tending to daily business should not be a dreaded chore because of lack of access. And that access should be discreet, wireless and touchless while providing sound clarity.
Counter Hearing Loops can help.
These have been around for some time and are very common overseas. They are simpler, faster and less expensive to install than whole area loops. There are even portable versions.
Clients can tune into the loop sound signal by activating the telecoils in their hearing aids, cochlear implants or portable T-coil devices. No yelling. No overly amplified, embarrassing cacophony.
Get information
When it comes to sound access, every situation is different. Therefore, it is important to do some research and to get information and an assessment from knowledgeable sources.
Advertise!
Once the counters or kiosks have been made accessible, include this information in your advertising material. Let people with hearing loss know that you are inclusive and that equitable access is an important business concern at any time. .
The blue-and-white hearing loss symbol marked with a prominent "T" (for telecoil or T-coil), tells customers that they have loop access and guides them to the correct waiting line or service desk.
In the end, equitable communication access for all is a good business strategy
Disclaimer: The above web address links are provided for information and illustration only. The author does not favor one manufacturer, supplier or company over another.
*****
Contact us for Zoom presentations on Noise-induced Hearing Loss prevention and Hearing Safety Training.
Meet me online:
Email: [email protected]
Visit my website hearing-loss-talk.com
Join me on Facebook: https://www.facebook.com/whatdidyousaybook/
I even Tweet: @WhatDidYouSay88