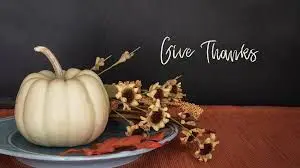 Thanksgiving and Hearing Loss
A lot to be grateful for
Although Thanksgiving comes but once a year, every day should be a day of Thanks. However, for those with hearing loss, Holidays can be tremendously challenging.
Many state that they actually dread the socially-intense events: Too much noise, too much confusion and overwhelming listening fatigue while struggling to follow conversations. But then, we should be thankful for family and friends who invite us to celebrate with them. Many people are not that lucky.
Thanksgiving is the day for remembering the moments of grace and friendship as well as the victories, no matter how small, that have brightened our days throughout the year. Maybe we were given positive feedback at work. Maybe someone told us that we are cool. Maybe we got a super hearing aid deal. Maybe we found a quiet restaurant… Yes, in spite of it all, there is a lot to be thankful for. Focusing on the positive can be quite healing.
Among others, I am grateful that
the hearing loss in my left ear seems to have stabilized—or so it seems
the tinnitus in my left ear has not worsened
the tinnitus in my right ear is still at a tolerable level as I deal with the hearing loss that is causing it
I came to accept my new communication reality
researchers continue to look for answers to hearing loss and tinnitus and seem to be making progress
there are always people who foster research programs with generous financial donations
my husband and family support my mission of "keeping people hearing better, longer," at work, at home, at leisure…
over time, I have had the honor to speak to over 8000 people in communities and Industry about hearing loss prevention and hearing preservation
In the end…
The words of writer Henry David Thoreau say it best: "I am grateful for what I am and have. My thanksgiving is perpetual."
*****
For community or Industry Hearing Safety presentations or Hearing and Health presentations, please see my website hearing-loss-talk.com
To learn about Ears and Hearing, see my book "What Did You Say? An Unexpected Journey into the World of Hearing Loss" – now in its second edition.